I love working to commission! It's always exciting to be asked to create something that has particular meaning to someone. Whether it's designing a clock for a special present, or capturing the feel of someone's home or holiday home, it's such a rewarding challenge. Sometimes I've been asked to paint a favourite room when the owners are moving away. Other times it's a cherished holiday home - much missed when the owners can't be there. It's lovely to be able to give people something they can take with them, wherever they move. If you're considering this and would like additional prints (or cards) to be made for family and friends, that's a good way to get even more from your commission. Below are a few examples of projects I've worked on.
 Southwold Cottage interior.
Commissioned by the owners of this fisherman's cottage, I aimed to capture the feel of their beautifully and painstakingly restored holiday home. The owners were delighted with their commission and have since ordered prints and greetings cards.
Ideally I like to visit and spend some time in a place I've been commissioned to paint. This way I can use some artistic licence in creating a composition that, although it may not be precisely accurate, evokes the light and atmosphere of the home. However, where this isn't practical I'm happy to work from photographs.
This painting was commissioned by customers who had spent many years bringing up their children in one of the houses in New Square. Now living back in their native Australia, they wanted a reminder of the happy times they'd spent there.
I've enjoyed designing and making clocks for several of the Cambridge colleges, including the Vice Chancellor's office. It's particularly interesting to design something for a specific environment, as it pushes me to consider factors I don't usually need to, such as light, viewing angles and decor.
I'm often asked to make clocks to celebrate a special birthday, or as wedding presents. This is great fun as the family and friends can steer me towards themes and images that are poignant to the people I'm making it for. It's also possible for me to subtly include initials and dates into the design.
Commissioned as a gift, I was asked to design a clock that reflected the recipient's love of the artist Eric Ravillious' work. This was a particular pleasure for me, as I feel a strong affinity with his work.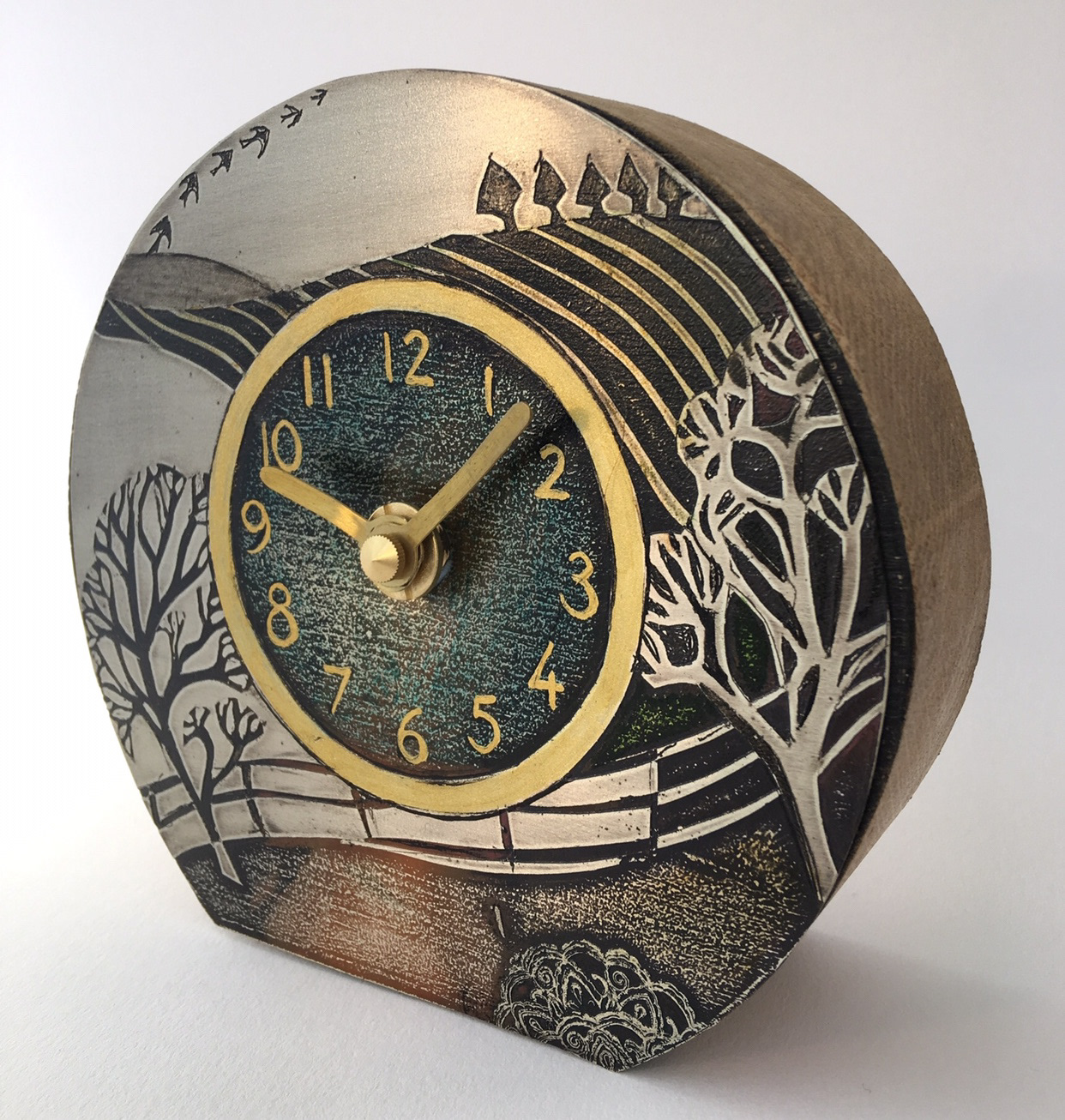 This was commissioned as a wedding present in which the groom was British and the bride was from Greece. The clock was designed to show the joining of their cultures, involving imagery that was particularly poignant to them such as Olive trees, Oak leaves and butterflies.